The Spiritual Password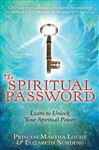 Louise, Mrtha; Nordeng, Elisabeth
The Spiritual Password
As we enter the heightened energetic level of consciousness in this new post-2012 era, we have to play by new rules.  The Spiritual Password  sheds light on innovative meditation and visualization techniques that will support you and ground you as you develop your gifts. They are simple yet life-changing tools that will transform your everyday experience .  Accessing your own unique spiritual password will allow you to journey between realms and gain support from celestial guides that are eager to help you on your spiritual path in this new age. . The Spiritual Password  reveals the secret of how to become more sensitive to yourself, connecting you to your heart, to The Earth, to The Universe, to your guardian angel and beyond. The authors share their own personal experiences and inspiring stories from their students and clients that will help you discover your own path to a stronger connection - and open to the miracles that await you!

Hay House, ISBN: 9781781802670

⊹ ⊹ The Spiritual Password: More Information and Download...