The Romance of the Fungus World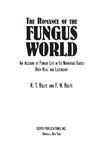 Rolfe, R. T. and F. W.
The Romance Of The Fungus World
Mankind has always had a love-hate relationship with fungi. On the positive side, edible mushrooms and truffles are gastronomic delights, and certain fungi possess medicinal properties. On the other hand, many mushrooms are poisonous, and fungi can inflict costly damage on crops and other property. This captivating book explores both sides of the story, examining aspects usually overlooked in texts and field guides. The survey begins with fungi lore from mythology and legends, focusing particularly on the plants' association with devils, witches, and fairies. A balanced portrait of fungi in the real world considers not only the ruin caused by the plants but also their uses in medicine and industry and as foods. Ranging far and wide in its topics, the narrative offers a light touch and plenty of enthusiasm, making this book fun for everyone with even a casual interest in mushrooms. In addition, serious mushroom hunters will find this volume a practical reference and a fascinating resource for leisurely browsing.

Dover Publications, ISBN: 9780486231051

⊹ ⊹ The Romance of the Fungus World: More Information and Download...