The Makings of a Modern Epidemic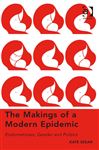 Seear, Kate, Dr
The Makings Of A Modern Epidemic
This timely book addresses the scholarly neglect of endometriosis by the social sciences, offering a critical assessment of one of the world's most common - and burdensome - health problems for women. Drawing on a range of theoretical perspectives, including science and technology studies, feminist theory and queer theory, The Makings of a Modern Epidemic explores the symbolic, discursive and material dimensions of the condition. It demonstrates how shifts in thinking about gender, the body, race, modernity and philosophies of health have shaped the epidemic, and produces a compelling account of endometriosis as a highly politicised and grossly neglected disease.

Ashgate Publishing Ltd, ISBN: 9781409460824

⊹ ⊹ The Makings of a Modern Epidemic: More Information and Download...