Stress Responses of Lactic Acid Bacteria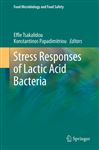 Tsakalidou, Effie; Papadimitriou, Konstantinos
Stress Responses Of Lactic Acid Bacteria
Beginning with the basics of lactic acid bacteria and stress response, then working into specific fields of research and current developments, "Stress Responses of Lactic Acid Bacteria" will serve as an essential guidebook to researchers in the field, industry professionals, and advanced students in the area. The exploration of stress responses in lactic acid bacteria began in the early 90s and revealed the differences that exist between LAB and the classical model microorganisms. A considerable amount of work has been performed on the main genera/species of LAB regarding the genes implicated and their actual role and regulation, and the mechanisms of stress resistance have also been elucidated. Recent genome and transcriptome analyses complement the proteome and genetic information available today and shed a new light on the perception of and the responses to stress by lactic acid bacteria.

Springer, ISBN: 9780387927701

⊹ ⊹ Stress Responses of Lactic Acid Bacteria: More Information and Download...