Stress Free in Three Minutes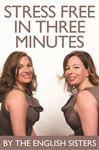 The English Sisters
Stress Free In Three Minutes
You may be feeling stressed right now or would like to help someone that is feeling stressed. It has been proven that heart attacks, strokes, high blood pressure, headaches, ulcers and many more medical conditions can all be brought on or made worse by cumulative stress. Stress has negative effects in all spheres of your life and can be fatal. The English Sisters, known as the Everyday Hypnotherapists, will take you on a relaxing journey in each of their easy-to-read short stories, which gui...

Andrews UK, ISBN: 9781780925530

⊹ ⊹ Stress Free in Three Minutes: More Information and Download...