Spanish II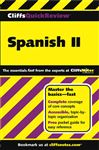 Rodriguez, Jill
Spanish Ii
CliffsQuickReview course guides cover the essentials of your toughest classes. Get a firm grip on core concepts and key material, and test your newfound knowledge with review questions. CliffsQuickReview Spanish II continues where CliffsQuickReview Spanish I left off andis meant to provide all the foundations of basic Spanish pronunciation, spelling, and sentence construction. Spanish grammar is systematically explained in its most simplistic way; if you've already read CliffsQuickReview Spanish I or if you already have a good foundation in Spanish, this book is an appropriate resource to hone your skills to the equivalent of two years of college-level Spanish. As you work your way through this review, you'll be ready to tackle such concepts as New verb tenses — future tense, conditional tense, compound tenses, and the past participle Subjunctive Mood I and II Prepositions and pronouns Passive voice, conjunctions, and more sentence variations Past subjunctive and sequence of tenses Antonyms and synonyms CliffsQuickReview Spanish II can act as a supplement to your textbook and to classroom lectures. Use this reference in any way that fits your personal style for study and review — you decide what works best with your needs. You can read the book from cover to cover or just look for the information you want and put it back on the shelf for later. Here are just a few ways you can search for topics: Use the free Pocket Guide full of essential information Get a glimpse of what you'll gain from a chapter by reading through the Chapter Check-In at the beginning of each chapter Use the Chapter Checkout at the end of each chapter to gauge your grasp of the important information you need to know Test your knowledge more completely in the CQR Review and look for additional sources of information in the CQR Resource Center Use the glossary to find key terms fast With titles available for all the most popular high school and college courses, CliffsQuickReview guides are a comprehensive resource that can help you get the best possible grades.

Wiley, ISBN: 9780764587580

⊹ ⊹ Spanish II: More Information and Download...