Security and Conflict Transformation: An Internal Business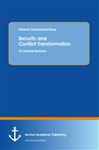 Santamarta-Perez, Roberto
Security And Conflict Transformation: An Internal Business
Peace and humanitarian operations are affected by internal conflicts, possibly in a higher level than other type of organizations, due to its natural hazardous settings and the expected stress situations that its members sign for when joining. Occasionally, these conflicts escalate to unsuspecting grades and, eventually, disrupt the operations to unwanted degrees. To transform intra-organizational conflicts, this book proposes a methodological set of recommendations at every level to be implemented by security departments in peace and humanitarian operations. Its optimal execution would not only avoid the misuse of security by senior officials but fully integrate them into operations' mandates, achieve better intra-organizational conflict transformation expertise, and moreover, reach ultimate operational goals in peacebuilding and humanitarian aid. Additionally, the methodology proposed could be conveniently extrapolated to different public and private sector organizational spheres, where internal conflict plays a substantive role. Auszug aus dem Text Text Sample: Chapter 1, Introduction: Security is defined as the state of being free from danger or threat.' Maslow refers to the human need for safety away from threat and danger, from the early stages of infant life (1943: 376), placing it on the second lowest level of his famous hierarchy of needs pyramid, where security is considered only less prevalent than physiological needs like breathing, eating, drinking, or sleeping. Parallel to security, Oxford dictionary as well defines risk as a situation involving exposure to danger,' and management is the process of dealing with or controlling things or people.' Having defined separately these terms, organizational security and risk management refers to the institutional ability to control and alleviate the potential losses it will lay it selves open to while operating in hostile environments or simply suffering from unfavourable activities (MacAdams 2004) . When these organizational structures are placed in peacebuilding contexts, the risk to different threats exposure increases and internal security departments become protagonists in ensuring safety for staff, assets, and programmes. Finally, peacebuilding organizational structures are generally placed in post-conflict, natural disaster, or emergency relief required areas, and their commitment refers to preventing, resolving and transforming violent conflicts into stable peace (CPRS 2011) . As Keohane and Wallander discuss, a combination of the defined terms bring down to the actors of this book: peacebuilding organizational operations' security management departments or institutions (2002: 89) and its regulations, and the staff, assets, and programmes affected by the actions and the regulations of the first actors. There are a significant number of occasions when staff members deployed in peace and humanitarian operations omit security regulations, affecting their professional and,

Diplomica Verlag, ISBN: 9783954891849

⊹ ⊹ Security and Conflict Transformation: An Internal Business: More Information and Download...