Paddling Montana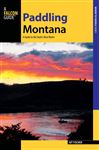 Fischer, Kit
Paddling Montana
Fully updated and revised with over thirty rivers, this new full-color edition provides information on access points, distances, river difficulties and hazards, maps with distance mileages, GPS coordinates, and phone numbers for obtaining up-to-the-minute floating conditions. The text contains anecdotes and sidebars about indigenous history, Lewis and Clark routes, avoiding crowds, and rules for traveling waterways.

Falcon Guides, ISBN: 9781493005994

⊹ ⊹ Paddling Montana: More Information and Download...