Off Nevsky Prospekt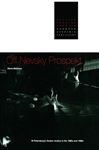 Markova, Elena
Off Nevsky Prospekt
Off Nevsky Prospekt is the first study to be published in English of the exceptionally rich and diverse theatre studio movement which has flourished in St Petersburg during the 1980s and '90s. Professor Markova charts the development of the theatre studios - from their beginnings as a reaction to the repressive atmosphere of the Soviet period and through the theatre bacchanalia of the Perestroika years. She then surveys today's vibrant scene, with analyses of key productions and interviews with many of the central figures, and describes how theatre studios have subverted the conventions of the past to create a new dialogue with the changing society from which their audience is drawn.

Taylor and Francis, ISBN: 9789057021343

⊹ ⊹ Off Nevsky Prospekt: More Information and Download...