Numbers Don't Lie: Mets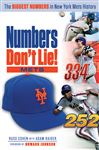 Johnson, Howard; Cohen, Russ; Raider, Adam
Numbers Don't Lie: Mets
Numbers Don't Lie:Behind the Biggest Numbers in Mets History details the numbers every Mets fan should know by heart. Authors Russ Cohen and Adam Raidertell the stories behind the most memorable moments and achievements in Mets history, including 6: the number of Gold Gloves Keith Hernandez earned in his career; 480: the distance in feet Tommy Agee's home run traveled on April 10, 1969; and 696: the record number of at bats Jose Reyes had in in 2005 to set a franchise record. With dozens of entries that span more than a half-century of Mets magic, this resource is an engaging, unique look back at the history of one of baseball's most entertaining franchises.

Triumph Books, ISBN: 9781629370842

⊹ ⊹ Numbers Don't Lie: Mets: More Information and Download...