Maracatu Atomico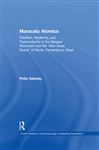 Galinsky, Philip
Maracatu Atomico
Maracatu Atmico is the first academic work to investigate the mangue movement, one of Brazil's most vital pop culture trends of the last thirty years, and the related new music scene of Northeast Brazil. Contending with the widespread poverty and social problems, mangue places a renewed value on the local environment and its myriad folk traditions while embracing modern, global pop influences and technology. The book provides historical and ethnographic accounts of the movement, analyzes salient examples of folk and pop fusion music, and enters recent debates about postmodernity, globalization, and world music in an attempt to understand better how local musicians in one Third World region interact within a more global cultural system.

Taylor and Francis, ISBN: 9780415940221

⊹ ⊹ Maracatu Atomico: More Information and Download...