Japanese Theatre in Highlight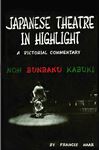 Bowers, Faubion; Haar, Francis; Ernst, Earle
Japanese Theatre In Highlight
Words cannot explain to an outsider the sight and feel of the Japanese stage. And definitions and descriptions do not convey an exact image to people brought up on a concept of the theatre that differs so greatly from the Japanese as ours. In seeing something foreign, too, our eyes must be guided carefully, so that we know what we are seeing and how to look at it profitably. All of us are to be grateful for this book, because now, without leaving our countries, or for that matter our armchairs, we can peer at leisure into expertly selected, edited and glossed highlights of the three great classical theatre arts of Japan-Noh, Bunraku and Kabuki. The Fifty-four ensuing photographs, with their textual commentary, are the equivalent, in my mind, of fifty-four choice seats at some of the best performances in modern Japan and intimate visits backstage.

Tuttle Publishing, ISBN: 1462913113

⊹ ⊹ Japanese Theatre in Highlight: More Information and Download...