Instant Revision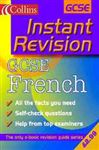 de Courcy, Jayne; Carter, Dave
Instant Revision
Instant revision notes, with self-check questions and grade-boosting tutorials in a unique e-book. Written by senior examiners and experienced teachers who know what students need for that final instant check! Sections cover all the topics that you'll meet in the GCSE French exam, with relevant vocabulary and phrases for topics such as school, home, the family and relationships, holidays and travel, weather and the seasons, media, communications and geography. All the important grammatical structures are included regular and irregular verbs, nouns, pronouns and adjecties, etc set out in a way that makes them easy to revise and remember.

HarperCollins UK, ISBN: 9780007129836

⊹ ⊹ Instant Revision: More Information and Download...