In Moral Danger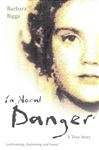 Biggs, Barbara
In Moral Danger
In the car on the way from Gran's flat to his house he's telling me about my new job. He turns and looks me up and down. I start to feel creepy. You know what else you'll be expected to do?' he says. He was 42 and a highly successful criminal barrister. She was 14, a runaway with nowhere to go. Having gained her confidence she later learned the barrister had paid her grandmother for her. She had been sold So begins Barbara Biggs's account of the dark side of the permissive seventies. The episode is to haunt her for years. But it is only one part of an extraordinary family story told with black humour and unflinching honesty. At 13, she runs away from a home for wayward girls; At 16, she admits herself to a psychiatric hospital; At 18, escapes Cambodia as it falls to the Khmer Rouge; At 19, she is a prostitute in Japan; At 21, she throws the unions into chaos. And Lives to tell the tale. This is one of the most incredible true stories you will ever read. It is a story that reveals the resilience of the human spirit in the face of terrible odds. It shows just how far a human being can be tested and yet still emerge triumphant. It is a story that will live with you forever.

John Blake Publishing, ISBN: 9781843581215

⊹ ⊹ In Moral Danger: More Information and Download...