Immersion in a Virtual World: Interactive Drama and Affective Sciences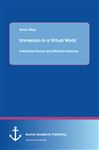 Mayr, Simon
Immersion In A Virtual World: Interactive Drama And Affective Sciences
Interactive drama is more than just a new breed of entertainment software. As different research projects have shown, these systems can also be used for pedagogical and therapeutic purposes. The goal of these systems is to teach sophisticated problem solving skills by allowing the user to interact with compelling stories that have didactic purpose.One of the main attractions of narratives, independent of the medium in which they are presented, is that they elicit emotional response in their audiences. They have an affective impact and only engineers and authors who understand how the emotion system works can create an engaging story world. This work proposes that an interactive drama based on a model of the user's affective state should be able to provide a truly immersive user experience.It becomes evident that research on interactive drama technology, especially with emphasis on affective modelling, is a highly interdisciplinary endeavour that draws - and has to draw - from many different disciplines. Auszug aus dem Text Text Sample: Chapter 3, Affective sciences and narrative studies: Emotions are often regarded as an involuntary mental and bodily response to a specific object, whereas the term affect refers to a larger set of states. While actual emotions like anger and disgust are important topics of research within the affective sciences, broader concepts like differing mood states are equally relevant to this field of research. With interactive drama, as with other forms of narrative, a somewhat capable author will find it rather easy to elicit emotional response in their audience. A character acting unfairly or aggressively towards the main character can elicit an emotion of anger which is directed at this character. A detailed description of a rotten corpse usually elicits disgust, and a tragic loss elicits sadness. The common denominator of emotions is their aboutness', they are directed at a specific object. Both the user and the author understand how these emotions are elicited. On the other hand, creating a desired mood, often defined as an intrinsically objectless experience', and sustaining that mood during the whole course of the narrative is a much more demanding task. The emotional stimuli created have to be both strong and frequent enough, because otherwise the consumer of the narrative may end up experiencing mood states least intended by the author: boredom and frustration. Considering the user's affective state is essential for creating an engaging player experience. While, as I will show, all forms of narrative aim at eliciting emotions and creating moods, which, according to the author's belief, fit the presented content, interactive drama provides an exciting new possibility: to adjust the presented content and the interaction options offered, to the user's mood. To do so, the system has to be capable to draw conclusions about the user's affective state from what they experienced so far and the way they int

Diplomica Verlag, ISBN: 9783954896967

⊹ ⊹ Immersion in a Virtual World: Interactive Drama and Affective Sciences: More Information and Download...