How to help enterprises going mobile: Investigation on influences and requirements of business apps within Enterprise Mobility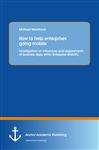 Mordhorst, Michael
How To Help Enterprises Going Mobile: Investigation On Influences And Requirements Of Business Apps Within Enterprise Mobility
The study at hand is about current and future requirements and influences of business apps within Enterprise Mobility. The main objective is to provide recommendations for an IT consultancy, who needs a strategy to approach mobility market best. The recommendations include a service portfolio as well as an approach based on results of the investigation. The investigation has been conducted via interviews and focused on current and potential business apps user of different industries, job levels and company sizes. The questions contained topics from four dimensions: economic, technical, process and social. These perspectives structure the whole study so to say not only the investigation, but also literature review and analysis.Based on the conclusion of the investigation the recommendation suggests a service portfolio with three building blocks: Readiness Check, Transition Management and Advanced Mobility. Auszug aus dem Text Text Sample: Chapter: 1.1Definition of Terms: For the management challenge it is necessary to define specific terms of mobility to clarify their meanings for the research. Enterprise Mobility: There are multiple terms of the buzzword Enterprise Mobility', because it is difficult to narrow down the content. According to Rouse in 2011 EM is a trend toward a shift in work habits, because more and more employees are working not at their desks but using mobile devices and cloud services to perform business tasks. Together with the mobility of corporate data, EM can improve employee productivity, but it also creates security risks. In recent years EM management products, such as data loss prevention technologies, help IT departments address these risks. In addition a strong use of policies for employees can also contribute to a successful EM. Cloud Computing: The National Institute of Standards and Technology of the US department of commerce defined 2011 cloud computing as a general term for anything that involves delivering hosted services over the Internet. These services can be rapidly provisioned and released with a minimum management effort or service provider interaction. For this assignment it is important to know that cloud computing can be used within Enterprise Mobility to use mobile services in business processes. Business Apps: Business apps are applications for mobile devices, which are used for business purposes. Business apps can be developed for different stakeholders for example customer, supplier or employees. The following paper is focused on business apps for employees. Mobile Devices: The market of mobile devices is diversified not only through the producer but also through the type of device e.g. smartphones, tablets, hand scanners or special customized mobile tools. For this paper smartphones and tablets are matter of interest, which are loosely defined as phones that can run third party applications and access Internet directly. 1.2Approach and Structure of Management Challenge: The general a

Diplomica Verlag, ISBN: 9783954891955

⊹ ⊹ How to help enterprises going mobile: Investigation on influences and requirements of business apps within Enterprise Mobility: More Information and Download...