How to Get Out of the Rut Race
Home > Psychology & Psychiatry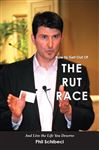 Schibeci, Phil
How To Get Out Of The Rut Race
The Rut Race is a state of mind, which we can slip in and out of at any time. The trick is to recognise when you are in it and know how to get out. Phil was stuck in the Rut Race for a long time and found a way out. He has written this book with the intention for it to be and inspiration, motivation and a guide to anyone who wants to radically transform their life from one that they don't like to one that they love. In How to Get Out of The Rut Race, Phil has put together some innovative, powerful and yet simple ideas that anyone can use to get out of a rut. Using these concepts, people can discover what they want in life and how they can quickly and responsibly create and start living a life they truly love. Phil considered himself a very average achiever, so he firmly believes if he can make this type of change to his life at a mature age, anyone can. This book is about how he did it and more importantly it shows you how you can do it too. Discover why most people don't achieve their goals. Find out how to achieve all your goals using the Five Stage Guide to Success. Phil Schibeci shows the raeder how to take control of their lives, reconnect with their passion and create the life of their dreams. Read this book if you are ready to finally take charge of your life and start living it the way you've always dreamed of.

Phil Schibeci, ISBN: 9780987359704

⊹ ⊹ How to Get Out of the Rut Race: More Information and Download...