How Tough Could It Be?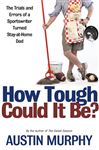 Murphy, Austin
How Tough Could It Be?
A father takes a break from every guy's dream gig--covering football (and the odd swimsuit shoot) for Sports Illustrated --to give it a go as Mr. Mom, in this hilarious and heartfelt book After nineteen years as a writer for Sports Illustrated , Austin Murphy should have had it made. Instead, he'd had it--with measuring his life by hotel rooms and Heisman stories, with members of his church assuming that his wife, Laura, was a single mother. With each missed birthday and recital, he became more convinced that he was missing out on his kids' lives. So he decided to trade in his current job for a new one: Laura's. Once an ambitious young journalist, Laura's career had slowed when she went on the mommy track. Now, with a wife of her own, she would be able to write full time, while he could be present for more Kodak moments. Alas, the man charged with preparing three nutritious meals a day had never mastered his own outdoor grill. Sublimely ignorant of everything from grocery shopping to house-cleaning to the need to trim his children's nails more than, say, semi-annually, Murphy embarked on his journey much as Shackleton took on the Antarctic: spectacularly ill-equipped to survive it. Between the lice checks, the spring break trip to Las Vegas, and the chairmanship of the Lower Brookside Elementary Variety Show, there were bound to be casualties. Lively, poignant, and laugh-out-loud funny, How Tough Could It Be? is the story of one man's decision to reorder his life around things that really matter and of his adventures (and misadventures) along the way.

Henry Holt and Co., ISBN: 9781466864269

⊹ ⊹ How Tough Could It Be?: More Information and Download...