How Music Helps in Music Therapy and Everyday Life
Home > Psychology & Psychiatry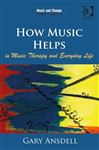 Ansdell, Gary, Mr
How Music Helps In Music Therapy And Everyday Life
How Music Helps is not just a book about music therapy. It has the more ambitious aim to promote (from a music therapist's perspective) a better understanding of 'music and change' in our personal and social life. Ansdell's theoretical synthesis links the tradition of Nordoff-Robbins music therapy and its recent developments in Community Music Therapy to contemporary music sociology and music studies. This book will be relevant to practitioners, academics and researchers looking for a broad-based theoretical perspective to guide further study and policy in music, well-being and health.

Ashgate Publishing Ltd, ISBN: 9781409434146

⊹ ⊹ How Music Helps in Music Therapy and Everyday Life: More Information and Download...