Heroku Cloud Application Development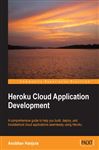 Hanjura, Anubhav
Heroku Cloud Application Development
An easy-to-follow, hands-on guide that clearly explains the various components of the Heroku platform and provides step-by-step guidance as well as numerous examples on how to build and troubleshoot robust and scalable production-ready web applications on the Heroku platform.This book is intended for those who want to learn Heroku the right way. Perhaps you are new to Heroku or are someone who has heard about Heroku but have not built anything significant with it. You should have knowledge or familiarity with cloud computing and basic knowledge of database and network deployment.

Packt Publishing, ISBN: 9781783550975

⊹ ⊹ Heroku Cloud Application Development: More Information and Download...