Head First PMP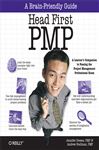 Greene, Jennifer; Stellman, Andrew
Head First Pmp
Media Reviews I have been doing project management for over 30 years and am considered a subject matter expert in the PMBOK(r) Guide -Third Edition primarily because I am the Project Manager who led the team that developed this edition. As a consultant I was hired to review and evaluate eight of the top selling PMP Exam Preparation books for their accuracy in following the PMBOK Guide - Third Edition. I have developed and taught a PMP Exam Prep course for a leading R.E.P., and taught PMP Exam preparation classes for PMI Chapters. I can honestly say that Head First PMP is by far the best PMP Exam Preparation book of all I have reviewed in depth. It is the very best basic education and training book that I have read that presents the processes for managing a project, which makes it a great resource for a basic project management class for beginners as well as a tool for practitioners who want to pass the PMP exam. The graphical story format is unique, as project management books go, which makes it both fun and easy to read while driving home the basics that are necessary for preparing someone is just getting started and those who want to take the exam. -- Dennis Bolles , PMP DLB Associates, LLC and co-author of The Power of Enterprise-Wide Project Management This looks like too much fun to be a PMP study guide! Behind the quirky humor and nutty graphics lies an excellent explanation of the project management processes. Not only will this book make it easier to pass the exam, you'll learn a lot of good stuff to use on the job too. --Carol Steuer, PMP and PMBOK(r) Guide, 3rd Edition Leadership Team This is the best thing to happen to PMP since, well, ever. You'll laugh, learn, pass the exam, and become a better project manager all at the same time. -- Scott Berkun, author of The Art of Project Management and The Myths of Innovation Original, fresh, and fun... this is truly the perfect study companion for anyone aiming for PMP certification. --Teresa Simmermacher, PMP and Project Manager at Avanade I love this format! Head First PMP covers everything you need to know to pass your PMP exam. The sound-bite format combined with the whimsical images turns a dry subject into entertainment. The organization starts with the basics then drills into the details. The in-depth coverage of complex topics like Earned Value and Quality Control are presented in an easy to understand format with descriptions, pictures, and examples. This book will not only help you pass the PMP, it should be used as an daily reference for practicing project managers. I sure wish I had this when I was studying for the exam. --Mike Jenkins, PMP, MBA I think that under the fonts and formalized goofiness, the book has a good heart (intending to cover basic principles in an honest way rather than just to pass the test). Head First PMP attempts to educate potential project managers instead of being a mere

O'Reilly Media, ISBN: 9780596102340

⊹ ⊹ Head First PMP: More Information and Download...

Head First PMP
Greene, Jennifer; Stellman, Andrew
Head First Pmp
Learn the latest principles and certification objectives in The PMBOK Guide , (Fifth Version), in a unique and inspiring way with Head First PMP . This book helps you prepare for the PMP certification exam using a visually rich format designed for the way your brain works. You'll find a full-length sample exam included inside the book. More than just proof of passing a test, a PMP certification means that you have the knowledge to solve most common project problems. But studying for a difficult four-hour exam on project management isn't easy, even for experienced project managers. Drawing on the latest research in neurobiology, cognitive science, and learning theory, Head First PMP offers you a multi-sensory experience that helps the material stick, not a text-heavy approach that puts you to sleep. This book will help you: Learn PMP's underlying concepts to help you understand the PMBOK principles and pass the certification exam with flying colors Get 100% coverage of the latest principles and certification objectives in The PMBOK Guide, Fifth Edition Make use of a thorough and effective preparation guide with hundreds of practice questions and exam strategies Explore the material through puzzles, games, problems, and exercises that make learning easy and entertaining Head First PMP puts project management principles into context to help you understand, remember, and apply themnot just on the exam, but also on the job.

O'Reilly Media, ISBN: 9781449364915

⊹ ⊹ Head First PMP: More Information and Download...