GMAT Prep Course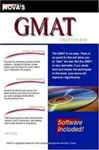 Kolby, Jeff; Thornburg, Scott
Gmat Prep Course
Every year students pay as much as $800 to test prep companies to prepare for the GMAT. Now you can get the same preparation in a book. GMAT Prep Course provides the equivalent of a two-month, 50-hour course. Although the GMAT is a difficult test, it is a very learnable test. GMAT Prep Course presents a thorough analysis of the GMAT and introduces numerous analytic techniques that will help you immensely, not only on the GMAT but in business school as well.

Nova Press, ISBN: 9781889057132

⊹ ⊹ GMAT Prep Course: More Information and Download...