Berlin for Free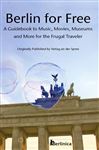 Mrtens, Monika
Berlin For Free
Discovering Berlin has never been easier with this invaluable guide for the frugal traveler. This book has neatly arranged the best no-cost opportunities for kids and grow-ups alike. A wide variety of easy-to-find activities such as concerts in the park, films, tours, exhibitions, sporting events, and street fairs are included. More than 200 up-to-date addresses, phone numbers, and web sites that have been fact-checked round out the useful information.

Berlinica Publishing LLC, ISBN: 9781935902409

⊹ ⊹ Berlin for Free: More Information and Download...