Augustus Finds Serenity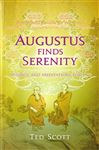 Scott, Ted
Augustus Finds Serenity
Is your life all stress, and all you want is a bit of peace? Before you hit your boss, yell at your kids or buy one more expensive, shiny toy you really don't need, meet Augustus. Walk with him as he finds his way to a good life. Augustus Finds Serenity is a guide to changing your whole approach to dealing with life's joys and confusions. His story will inspire and support you through manic meetings, frantic family situations and the countless confrontations that test patience and good sense.

A & A Book Publishing, ISBN: 9780980505504

⊹ ⊹ Augustus Finds Serenity: More Information and Download...