ACT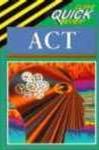 Bobrow, Jerry
Act
Don't take a chance -- take an advantage. Go with the experts who wrote Quick Review ACT and follow their step-by-step approach to success. Over twenty years of test preparation experience is behind this book, and with it you set goals, study basic skills, understand the test format, and develop a test-taking strategy so that on exam day you leave nothing to chance. Your study time is valuable -- why waste any of it when you've got all you need in one book?

John Wiley & Sons, Inc., ISBN: 0764523619

⊹ ⊹ ACT: More Information and Download...